2017 Charity Partner
Jon Holland Impact Indee Fund

Earlier this year we lost a good friend, Jon Holland. Jon was a founding member of Independence BrewBQ and a very important part of so may community activities. He was truly a "Professional Volunteer".
The Board of Independence Celebrations Committee (who also oversees Independence BrewBQ) has established the Jon Holland Impact Indee Fund to continue Jon's legacy by creating a perpetual income stream to make a positive impact in Independence. The best way to honor Jon is to encourage people to get involved by offering their time and talents to better Independence.
The Jon Holland Impact Indee Fund is a permanent fund with the Community Foundation. The annual distribution from the fund will support community betterment projects and programs in Jon's memory. The program areas include financial support for secondary education endeavors and projects to enhance the Independence Community.
This fund is eligible for the Endow Iowa Tax Credit as it is a permanent fund with an accredited Community Foundation. As a donor, individuals receive a 25% Iowa tax credit for your donation. This year's credits are going fast however, donations will be eligible for the 2018 tax credit pool on a first-in-line basis. The donation is also eligible for the regular federal tax deduction for the current tax year. The tax credit is more favorable than a deduction.
Click here for a program flyer to share and/or send in a contribution.
Individuals may contribute online at www.cfneia.org/jonholland or mail checks to CFNEIA at 3117 Greenhill Circle, Cedar Falls, IA 50613. Please make your check payable to the Jon Holland Impact Indee Fund or the Buchanan County Community Foundation noting the Holland Impact Fund in the memo. If you have questions, please contact Terry Gaumer at tgaumer@cfniea.org or 319-243-1354.
---
2016 Charity Partner
Independence Area Food Pantry

The Main Program of the Independence Area Food Pantry is the procurement and distribution of emergency or supplemental food with an emphasis on nutrition. This service is available five days a week, and clients may use it once a month. It provides about 34 pounds of basic foods per person. Shelf stable fruits and vegetables, whole grain pastas and cereals, rice, bread, peanut butter, and canned tuna or meat are offered along with frozen vegetables and fruit, fresh fluid milk, eggs, and frozen meat in a grocery store format. Clients are limited on how much they may take, based on household size, but may choose the foods they can and will use. This has reduced waste, helps those with diet restrictions, and feels comfortable to our clients. Fresh produce and items with very short shelf life are offered unlimited, and clients have access to them as often as they like.
Visit the Independence Area Food Pantry on Facebook.
---
2015 Charity Partner
Buchanan County Animal Shelter

The Buchanan County Animal Shelter is a group of citizens working as a non-profit organization, dedicated to finding homes for misplaced animals in Buchanan County, Iowa. They are located just north of Hazleton on Highway 150.
Visit the Buchanan County Animal Shelter online.
Follow Buchanan County Animal Shelter on Facebook.
---
 2014 Charity Partner
Buchanan County Volunteer Co-op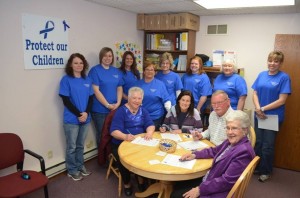 Buchanan County Volunteer Co-op has been providing extended preventative home visitation and support services since 1984. These services are meant to strengthen and empower families with children, at no cost, that reside in Buchanan County. Emergency and Crisis Child Care Services are also available at no cost to county residents
Read the KWWL "Someone You Should Know" segment featuring Brenda Ristvedt and the Buchanan County Volunteer Co-op.
 Visit Buchanan County Volunteer Co-op on Facebook
---
2013 Charity Partner
Building a Dream in the Country
Visit the Building a Dream in the Country website.
Follow Building a Dream in the Country on Facebook.
---
2012 Charity Partner
Relay for Life
Visit Buchanan County Relay for Life on Facebook.
---
2011 Charity Partner
Post 730 Honor Flight